4G Magnet GPS Tracker For Car & Vehicle
4G Magnet GPS Tracker For Car & Vehicle
Global 4G Band Frequency: 4G Band quand varies with different countries, please choose correct version:

North American Version:
4G LTE-FDD: B2/B4/B12 etc.
3G WCDMA: B2/B5

European / Middle East / African / Asian Version:
4G LTE-FDD: B1/B3/B5/B7/B8/B20
4G LTE-TDD: B38/40/B41 etc.
3G WCDMA: B1/B2/B5/B8
2G GSM: 850/900/1800/1900MHz

South American / New Zealand / Australia Version:
4G LTE-FDD: B1/B3//B5/B8/B28 etc.
4G LTE-TDD: B40
3G WCDMA: B1/B8
2G GSM: 850/1800MHz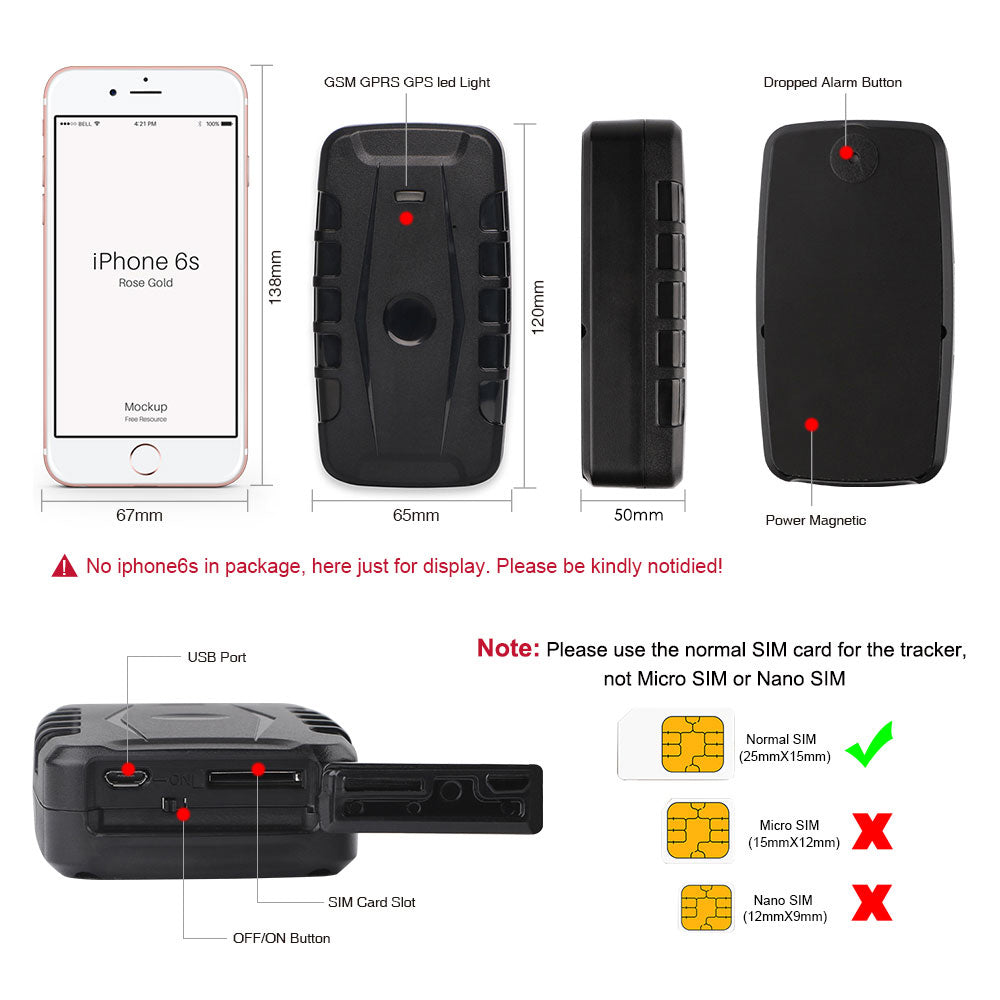 Main Features
(1) Real Global 4G version, also compatible with 3G and 2G
(2) Big battery capacity, built-in rechargeable 20000mAh
(3) Powerful magnet, no need professional install
(4) Low consumption and kinds of sleeping mode, power saved, long battery life;
(5) Dismount sensor alert, to avoid it dropping from vehicles without notice;
(6) Anti theft: built in motion sensor, it will send sms or call alert once detect motion;
(7) Geo-fence, it will send alert also once move out the pre-setted fence;
(8) Easy gsm sms tracking with street name in sms text;
(9) Free web based tracking platform supporting: no monthly or yearly subscription, FREE forever;
(10) Free mobile Application supporting: no monthly or yearly subscription, FREE forever;
Function Details
1. 4G GPS tracker: Support 2G GSM/3G/4G, GPS+LBS Dual Positioning Ways, If the gps signal is good, the device will locate via gps satellite, if not, the device will locate via LBS! Under GPS locating mode, the accuracy is 5-10 meters, under LBS locating mode, the accuracy is 100-2000 meters.

2. Realtime Tracking: You will can realtime track the device on google maps via mobilephone, tablet and computer, and the minumum data upload interval is 10 seconds.

3. History Route Playback: The APP and web server can record the upload data of the device up to 6 months, you will can playback the history route at any time.

4. Long Standby Time: It has built-in 3.7V 20000mAh Li-ion battery, the standby time is up to 240 days and the working time is up to 15-20 days;

5. Powerful Magnetic: It has built-in powerful magnets, can be very easily installed.

6. Waterproof IP67: The waterproof level of this device is IP65, it can resist splash water but can't be put under water.

7. Remotely Voice Monitor: Send "Monitor+Password" to the device first, then the device will turn into Monitor Mode, now if you make call to the SIM number in the device, it will pick up your call automatically and you will can monitor the voice around the device!

8. Overspeed Alarm: This alarm works only under continuous positioning mode.When the unit speed is exceed the speed you presetted, it will send message "speed alarm!" to the admin number every 5 minutes.

9. Shock Alarm: After you did the shake alarm setting,please keep the tracker being stationary for 5 minutes, then this function will start working. It will send SMS "sensor alarm!" to the admin number when the unit get shocked.

10. Movement Alarm: When the units stays immobile in a place for 10 minutes, the user can set up the movement alarm by this command "move+passord", then in case the device moved 500m it will send alarm SMS "Move Alarm+Latitude and longitude" to the authorized number.

11. Geo-fence: Set up a geofence for the tracker to restrict its movements within a district. The unit will send alarm information to APP and web server when it goes out of or get in this district.

12. Dropped Alarm: there has an anti-removal induction sensor on the back side of the device. If this covered induction sensor is not covered again, the device will send "Loosing alarms!" to the admin number and SOS number by SMS.

13. Support PC Tracking platform and smartphone tracking application.